Note: This Workshop Has Been Executed.
Monday, 29 April 2013, Kuala Lumpur
For the 5TH Edition, Music Conference ASIA has once again assembled music enthusiasts, DJ talents and music producers during the day for this year's workshop and key note interview session at the Auditorium, Sama – Sama Hotel, KL International Airport, the official hotel partner for this year's event.
This year's programs include:
ABLETON MASTER CLASS presented by Mile High Sounds – Ableton Certified Training Centre
WORKSHOP I – 2PM
ABLETON 9 LIVE, INTRODUCTION & SHOWCASE
Presenter: Rueben Samuel, Certified Ableton Trainer, Mile High Sounds
Biography:
Reuben has played the violin, keyboards, and piano since 1986. Holding a BSc (Hons) in Sonic Arts (Middlesex University, UK), and achieving a high distinction at SAE International, he has produced several charted house and breakbeat numbers, has sonically branded products, and has performed in clubs around Malaysia and Australia. He has used Ableton Live intensively since 2005 and he has experience with Max/ MSP. http://www.milehighsounds.com/
WORKSHOP II – 2:40PM
ABLETON PUSH, MAX FOR LIVE, INTRODUCTION & SHOWCASE
Presenter: Tom Cosm, Certified Ableton Trainer, Cosm.co.nz
Biography: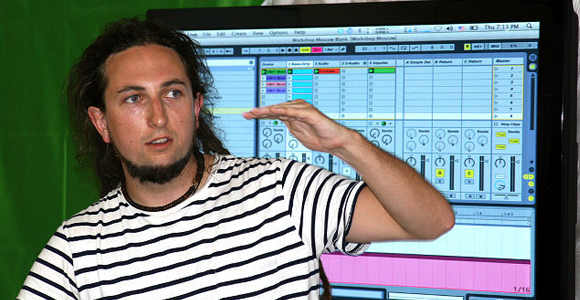 Tom Cosm is an electronic music producer, performer and teacher from New Zealand who has a great passion for teaching as he moves around the globe. Nicknamed the Ableton Guru, he manages a 15 thousand member strong interactive social media website with over 30 hours of self produced tutorial videos, lessons and downloadable resources, as well as hosting a thriving community forum where people can interact and collaborate. http://www.cosm.co.nz
KEYNOTE INTERVIEW SESSION presented by GLOBAL SOUND MASTERS

KEYNOTE INTERVIEW I – 3:30PM
THE GLOBAL DANCE MUSIC PHENOMENON with JUDGE JULES
Panel: Judge Jules
Biography:
International DJ, Producer & Presenter – Judge Jules first took to the decks in 1987, launching a career that has notched up millions of miles, a legacy of spins of the decks and countless gigs in far-flung destinations, as well as the odd dirty warehouse thrown in for good measure!
Jules' DJ sets are the epitome of what DJing is about - passion and crowdconnection, amazing tunes and a set of hands capable of the most nimble of mixing. With a list of awards that would make the British Olympic team blush, Jules has earned his place amongst the DJ aristocracy with such accolades as – Best DJ (Muzik Awards), No.1 DJ (Mixmag readers' poll), Best International DJ (Dancestar Awards), and Best Radio DJ at the Smirnoff Dancestars. Jules also attained the lofty height of no 3 in Dj Mags legendary top 100 Dj's poll in 2000 and has been a constant presence in the upper levels of the poll ever since.
Ibiza - Judgement Sundays: Jules' presence in Ibiza is legendary. His weekly night, 'Judgement Sundays', every Sunday @ Eden Discoteca is one of the island's busiest and most famous. In 2009, Judgement Sundays celebrated ten years at the top of its game - no mean feat for club night in Ibiza. The subsequent years have cemented "Judgement's" reputation as a must-see event for the 16 weeks of each summer season. Jules plays at each event alongside the true aristocracy of dance, including the likes of (in 2011) Ferry Corsten, Sander Van Doorn, Eddie Halliwell and Cosmic Gate. http://www.judgejules.net
INFORMATION CORRECT AT THE TIME OF ONLINE PUBLICATION.