Friday, 18 May 2012, Kuala Lumpur
A weekend of revolutionary sound and euphoria, the long-awaited music event Music Conference ASIA (MC Asia) has assembled over 10,000 dance music revellers on Saturday, 28 April 2012 at Sepang International Circuit. Fore fronted by exceptional acts, MC Asia 2012 was a true success. CLICK HERE for official event after movie.
The music workshop kicked off the event with Fly FM's Fly Five-0 residents and Radio KUL founders Simon Lee and Alvin as the host. The workshop provides an informative discussion on the present dance music trends and empowers the music knowledge of music enthusiasts through a masterclass session with dance music connoisseurs DJ/producer Richard Durand, singer/songwriter Julie Thompson and co-Director at Integrity Artist Management, Simon Eve.
Above Workshop In Progress
At the workshop, Richard Durand and Simon Eve shared their winning formula in producing an album such as being creative in music production, the process of music selection and ideas in marketing for a compilation album. On the other hand, Julie Thompson discussed and shared her experiences in songwriting from freestyle writing approach to writing for a specific genre.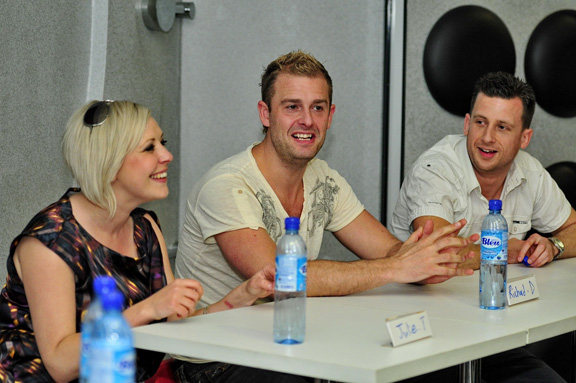 Discussion Between Richard, Julie & Simon Eve
Later that night, Pangaea Singapore resident DJ Patrick Oliver helmed the decks as soon as the festival began and elevate the night with his progressive sound. But there were no holds barred after Germany's most successful progressive house DJ/ producer Jerome Isma-Ae was welcomed to the stage.
DJ Patrick Oliver Takes On The Decks
Jerome Isma-Ae In Action
Giving the perfect energy to shake the grounds of Sepang International Circuit, Jerome Isma-Ae first appearance in Malaysia was something worth to experience and without a doubt, his set was spectacular.
The "Isma-Ae" View From The Stage
The angelic songbird Julie Thompson graced the stage, performed a set of songs including 'Somewhere Inside' and 'Shine' before Richard Durand joined her on the decks. The ocean of festival goers were glad to see Richard Durand's second appearance at MC Asia and he gave them the best night of their lives by propelling his infectious sound with the likes of 'Into Something', 'Always The Sun' and his collaboration track with Julie Thompson, 'Diamonds In The Sky'.
Julie Cheering The Crowd
Richard Durand Dishing Out His Signature Sound
As the clock ticked at midnight, MC Asia pulled everyone to a whole new state of excitement with the #8 DJ in the world (by DJ Mag) Dash Berlin. To mark his return after performing at two sold-out solo shows in Kuala Lumpur, Dash Berlin brought more energetic sounds.
Dash Berlin, The Captain Of The Night!
The captain of the night whipped his signature dashup tunes including 'Ease My Apollo Road' with the music video playing on the screens. Churning out everyone's favourite tunes such as 'Waiting' and 'Never Cry Again', it was a memorable night for Dash Berlin fans to witness his first ever festival performance in Malaysia.
In Dash Berlin We Trust!
With up to 10,000 dance music devotees, MC Asia 2012 has successfully unified Malaysians through music on this special night. However, Music Conference ASIA committees would like to apologize for the shortcoming delay before the festival. The team had done their best to put up a great show and they believed the event could go on perfectly if there was no intial interference. MC Asia 2012 would like to thank everyone for the great support!
MUSIC UNITES US ALL!