Saturday, 1 October 2011, Kuala Lumpur
Music Conference ASIA 2011 partnered with Atrium Entertainment (organizer of MASSIVE 201)1 music festival created the biggest festival line up in 2011. For an incredible 12 hours, the much anticipated dance music festival brought the Sepang International Circuit to life with an atmospheric and evocative day of music, dance and entertainment. An extensive line-up of internationally renowned World's Top 100 DJs and highly acclaimed national dance music icons entertained festival revellers with an eclectic mix of electronic dance music.
Above: M.C.Asia Music Factory Workshop with Woody Van Eyden, Alex M.O.R.P.H.
Patrons were seen to pack the event ground in the early afternoon for the day's carnival activity while the M.C. Asia Music Factory Workshop presented by HeavensGate was mentored by the dynamic duo Alex M.O.R.P.H. and Woody van Eyden, who showcased creative mixing techniques on Pioneer CDJs and dynamic mixing skills with Ableton software with the audience. The workshop aims to provide exciting opportunities for those involved - to congregate, connect and communicate with one another, while accumulating know-hows for the progression of the regional entertainment music industry.
Above: National EDM Icons in action (from upper left to lower right) : DJ NIKKI, TRIMIX, MisterAriffin, FONO
With the workshop coming to the end, home-grown talents misterAriffin, DJ Nikki, Fono and Trimix spun an eclectic mix of progressive house music from their decks to kick start the festival event of the night. MaRLo made his debut appearance with his signature blend of "hands in the air" moments infused with techno-house and trance influenced beats, followed by performances of in demand international DJs that returned to the shores of Malaysia.
Above: MaRLo making his Malaysia Debut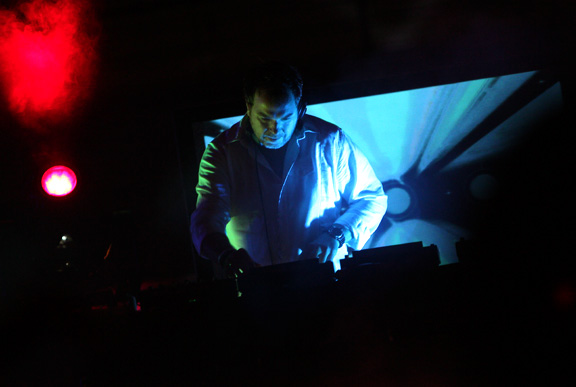 Above: MUSICAL MADNESS label boss Marcel Woods in action.
Marcel Woods then took on the stage and presented the much awaited Musical Madness style of big room, tech and electro sound, and for the first time in Malaysia, HeavensGate presented Alex M.O.R.P.H. b2b Woody Van Eyden, a collaboration that enthralled the crowd with their unique synergy of going b2b (back-to-back), track after track.
Above: HeavensGate presents Woody Van Eyden B2B Alex M.O.R.P.H.
Above: Festival Headliner - Simon Patterson spinning his signature Trance
Festival Headliner - Simon Patterson took on the mixing duty next, pushing the momentum higher with his signature trance and euphoric vibes. Scott Alert, the extraordinaire behind popular Australian hard dance brand Hard Kandy closed the finale set of the night.
Above: HARD KANDY's Scott Alert closing the festival in style.
The black and white themed music festival incorporated a music factory workshop, shuffle dance competition as well as carnival fiesta contributing to the celebratory style of the occasion and embracing Malaysian revellers with dance music vibe.