Saturday, 23 January 2010, Kuala Lumpur
Music Conference Asia (M.C.Asia) Music Factory "The Creation" has successfully attracted Electronic Dance Music enthusiasts from the region to congregate under one roof for one of the most entertaining and educational dance music showcases at the beginning of 2010.
Fervent crowd was seen to pack the event ground in the early afternoon while waited for "The Creation" Workshop to commence. Presented by two of the World's top 50 DJs and Producers, Richard Durand (Netherlands) and Sean Tyas (U.S), topics related to the production of Electronic Dance Music were discussed.
Above: DJ Producer Sean Tyas Presenting A Live Production Demo with LOGIC
Specifically, Richard spoke on the "Elements of A Great Production" where he explored a list of contents on "How to stand out as a producer in 2010", "Inspiration for new materials", and "What makes a remix project a standout production". Sean, while on the other hand, addressed the "Production in Logic" where he shared the details on "Side chaining and routing towards side chaining", "Bussing drums for filtering and compression", and "Effects on lead synths".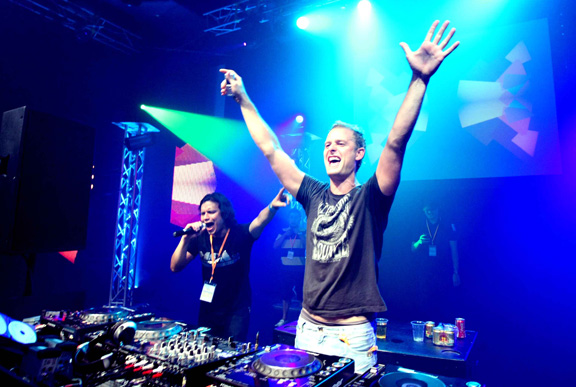 Above: DJ Producer Richard Durand In Action!
While it was all serious work during the day, music conference organiser, Global Sound Masters has also thrown "The Creation" Appreciation Party headlined by Richard Durand and Sean Tyas the in the evening, where the crowd were treated by the maestros to a night of pure auditory exhilaration pumped up with cutting edge tunes, exclusive reworks, slick mixing and outstanding technical wizardry behind the decks.
Above: DJ Producer Sean Tyas In The Mix!
The DJ grid also included one of Singapore's brightest talents and also the winner of the 2009 Music Conference Asia Digital Music Competition, Effen, who kept the crowd firmly in the dance floor with his nu-trance energy that weaved the sounds of techno, melodic and tech-trance seamlessly into a wicked sonic mayhem.
Famed local talents Popcorn Perky and Ian Ross were also invited to perform at the party, where the duo put up a fantastic act that drove the crowd frenzy with house, electronic and progressive inspired remixes, and sexy-slash-disco house with a pinch of electro beats respectively.
Above: Full Line Up of Appreciation Night: Popcorn Perky, Ian Ross, Effen, Richard Durand & Sean Tyas
Music Conference Asia truly appreciaties and would like to thank all for participating in this amazing event, the crowd and atmosphere was epic!